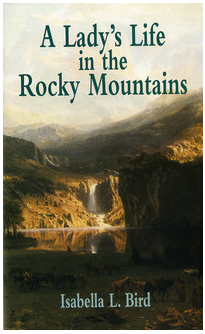 On our way home from Bellingham last summer we stopped in Ashland, Oregon to poke around. The shopping overall in Ashland was a little disappointing, but we found a cool shop called Shakespeare Books & Antiques. We spent a long time in this bookshop because it had a very well curated collection of books and some interesting antiques...I imagined little treasures being carefully brought west in covered wagons...over-romantic, I know...but a few things there were just that old. I almost bought an old hardcover of this book from there, but I had already had a new stack of books from Powell's under my seat in the car, so I left it there. I had to read it though, so I found a copy later online.
A Lady's Life was written in 1873..it's actually a series of letters written by the authoress Isabella L. Bird to her sister. Isabella (Ms. Bird, I should say) was taking the scenic route on her way back home to England after traveling in Hawaii (The Sandwich Islands). She is clearly an adventurer, as she traveled widely in her life, and she was unconventional for her time...a woman traveling alone, riding in rugged country (only 'sidesaddle' if she thought she'd get hassled in a town for not riding like a man). She rejected a homebound domestic life.
Beyond earning my admiration for being a tough, fearless, independent woman, Ms. Bird really wasn't very likeable. She's a bit cold and says rude things about many people she encounters, and she doesn't seem to like people or towns all that much. Part of this I'm sure is because of the familiar tone she takes writing to her sister, and part of it is the time period...and maybe she was just a hardened, grumpy 40-something woman riding a horse in freezing weather and having to sleep on the floor and do the washing up in the cabins of strangers. She is much more pleasant and enjoyable though when outdoors...describing the grandeur of the mountains of Colorado, expressing her joy at waking up in a little cabin to see the sunrise on the peaks or the shock at waking up under a blanket of snow. She might have had a little crush on the feared 'desperado' Mountain Jim.
I thought it was so interesting to read a woman's perspective on this time & place...and an English-woman at that. It was a fascinating snapshot of The Old West...the settlers, the trains, the plains, the rugged life...the DIFFERENT life in which people welcomed travelers into their homes and lived simply. Some of her anecdotes about basic necessities (clothing, shelter, food) are shocking. People have gotten soft in this modern age! This book isn't for everyone, especially since it does read like letters or a journal, not a novel. But if you're into late 1800's history, or if you liked the show Deadwood, you might enjoy at least skimming through it. Let me know if you want me to send you my copy (first come first serve).
Alternatively, if you'd like a mountain movie experience you could watch Jeremiah Johnson, which I did last week. Nothing wrong with a little vintage Robert Redford.